I'm a month behind in posting my recap and I 100% blame it on my new employer.  I'm delighted to be in a job that has me very busy with traveling, training, and dealing with issues all day long.  My evenings and weekends have filled up with catching up on family matters so this is the first opportunity I've had in a long time to sit and review the events.  Here we go.
Pre-Conference
Lucy's Retired Surfers Bar is a small diner in downtown Baton Rouge where the LA SHRM party started. Here I was able to meet Jennifer McClure, Bryan Wempen, Doug Shaw and many others for the first time.  HR gurus that I've admired from across social media platforms and now able to know face to face.  We sat to eat,  have drink, and converse together before heading to a place called Teddy's Juke Joint.  Way out in Zachary, Louisiana this was "a dive" if I've ever seen one.  Covered in mardi gras beads, snarky signage, and listening to soulful music the party continued until the wee hours of the morning.
The next morning a small contingent of us (Dwane Lay, Doug Shaw, Douglas Schooling, and I) drove up to St. Francisville, Louisiana for a bit of golfing at The Bluffs.  I'm not a golfer and chose to drive the cart and enjoy the beautiful scenery while watching the guys crack at the ball. After about 9 holes, I drove back to Baton Rouge to start the first session of the conference, Jennifer McClure's session on Using Social Media in HR & Recruiting.   A discussion about social media and it's important in today's HR world, McClure is vibrant and encourages HR professionals to integrate social media in their processes.
Day One
Bright and early on Monday morning the conference started off with some great announcements from National SHRM (some great new initiatives) and Louisiana SHRM, including the new Louisiana SHRM logo!
Dwane Lay Keynote Session: Changing Culture: The Impossible, The Possible, and Living on the Difference
Starting off with a key note was Dwane Lay about "Changing Culture: The Impossible, The Possible, and Living on the Difference." Always charismatic and keeping the audience engaged, Dwane's discussion on being a change agent was enlightening. He discussed about how we're resistant to change but the things you are not allowed to talk about can be the most important things to change. The morale of Dwane Lay's keynote: brand marketing matters when it comes to company culture.  "Change is a function of norms, values, symbols, technology, and language."
Top Tips for Employers to Avoid FLSA Misclassifications – Brooke Duncan III
Next session I attended focused on FLSA and misclassifications that frequently occur.  Duncan started off with saying, "Classifying someone as an independent contractor in title alone doesn't allow you to win that battle." Duncan recommends contracts for the independent contractors and emphasized the government's strong lean towards catching employers in FLSA misclassification scandals.  Louisiana State Department of Labor has authority to run investigations on behalf of IRS – they have some serious repercussions in our state. Duncan recommends businesses getting EPLI (Employment Practices Liability Ins.) that helps against violations and penalties.
The Future of HR: Delivering Competitive Advantage in Your Organization – Jennifer McClure

McClure Started off on the history of Human Resources – from Lena Harvey, "Welfare Manager" – she was the "mother" of the office to present. Times have changed from recruiting people who operate machinery to global, more knowledgeable employees. McClure put a huge emphasis on HR peeps becoming data analysts saying "Is what you're measuring past focused or future focused?" She said that being strategic is not a noun.  McClure encourages HR peeps to be a problem solver and learning how decisions impact the business.  Be the HR professional who is strategic focused and involved in operations side of the business. McClure gave huge shout outs to her tops influential HR people:  @
jrkuhns
, @
TrishMcFarlane
, @
jessica_lee
, @
beneubanks
, and @
Victorio_M
.  
Understanding the Business Impacts of Health Care Reform on Your Organization – Michael Bertaut, MBA, CHC, PAHM, Blue Cross Blue Shield of Louisiana
Bertaut's session on the Affordable Health Care Act was enlightening and really confirmed what many HR professionals feel – healthcare is about to get crazy. Bertaut says word of mouth and  media will be getting the word out about exchanges. The public will get blasted with info very soon. The exchanges will will ask for income information and then connect to IRS for tax returns to verify income level. Bertaut warns to look out for common law employees as it is defined as anyone who perform services for you. Their hours go into FTE bucket and this can includes independent contractors. To defend yourself on ACA standards, Bertaut says to 1) prove you are a small company 2) prove the employee isn't eligible 3) prove that you made an offer to EE but it was waived. Bertaut ended with saying that in 2015 IRS will have an increase of tax credit paperwork to deal with due to eligibility issues with employees. 
Building Social HR Leadership – Doug Shaw, CEO/Founder, What Goes Around
Doug Shaw's session on social leadership was brilliant and chock full of nuggets of wisdom.  Starting off with effective communication Doug talks about e-mail and how it is an ineffective method of communication, relying to heavy on the receiver to understand the message. Shaw encourages HR people to be authentic at work and being inclusive towards diverse thoughts and methods. He recommends simplifying processes and uses
Nordstrom's employee handbook
as an example. Using The World Cafe Method gather data through conversations with employees, have a conversation about "How can I make work better?"  "It's a great way to get buy in!" Shaw says. Shaw goes on to say that trust is where what you say and what you do meet, so to make sure you focus on both.
Day Two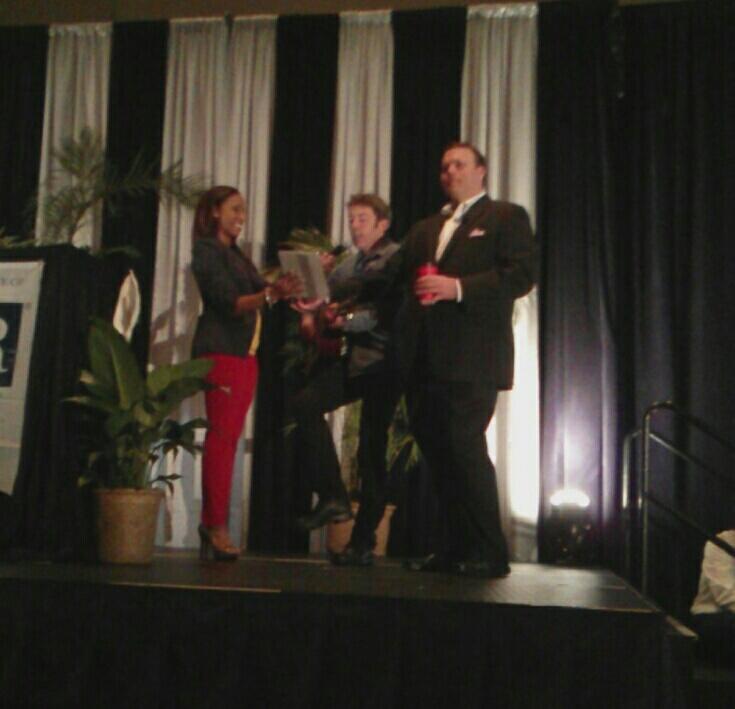 Starting off in a general assembly with a wobble dance to get the crowd going, Whitney Breaux (our emcee) did a short Q&A with
Dwane Lay
and a sing-a-long from Doug Shaw. 
What's Wrong with Your Internal Communication Strategy — and How to Make It Right – Mary Ellen Slayter, Reputation Capital Media Services 
A public relations and marketing expert, Mary Ellen Slayter starts off a great session on communication with emphasizing that employee's won't know what you want unless it's communicated. She recommends thinking like a marketer and deciding who is your target audience, how do they communicate, and what do they want to hear.  Slayter gives tips on communicating by 1) making it continuous 2) making it clear and 3) tailor it. Create a calendar for communication and utilize social media, blogs, etc. instead of just email and print. Lastly, Slayter recommends strategically planning Hr communications in a clear effective way. 
How to Master FMLA Compliance – Vicki Crochet, Taylor Porter
A interactive session with Vicki Crochet, FMLA Compliance is a necessary evil in the world of HR.  Crochet did an excellent job of teaching this session by giving real world situations and asking HR professional how they should be handled  Crochet recommends avoiding FMLA retaliation claims by educating supervisors, being aware of timing and having legitimate reasons for any discipline.
The 'Cult' of Work – Bill Boorman
Lastly, wrapping up the conference was Bill Boorman and his session on "culture." In the changing world we live in the workplace culture has become a necessity for hiring and retaining employees.  Boorman states that there isn't any such thing of bad culture only a bad culture fit.  Employees are more likely to be hired and stick with jobs that best fit their culture needs.  To understand your workplace culture Boorman recommends talking to the employees.  Each location, department will have it's own subcultures, discover what those are.  In order to build up culture Boorman suggests allowing employees to have a channel to talk about the company, communal spaces for employees to interact, and a recognition program the rewards beyond monetary.

Recap
Throughout the conference I spent much of my free time on the "Social Media Street' where I helped HR professionals get educated on Facebook, twitter, LinkedIn, etc.  While live tweeting from the conference I couldn't help but notice that the theme of this year's conference was about culture and change.  A prominent theme that i'm seeing in the world of HR is that the "old world" view of human resources as the personnel person is obsolete.  Instead HR professionals are needing to "move with the times" by integrating social media, learning to thinking strategically, getting involved in operations, and becoming a change agent.